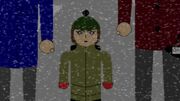 The Poor Kid
is a nameless, one-off character from
The Lenny Leggo Show
.
Background
Edit
He appears in The Worse Than Derek Savage Christmas Pageant as a poor kid who stumbles across Lenny (who is sitting by himself next to the library) and asks him if he can spare a quarter. Lenny, oblivious to the child's situation, rudely turns the kid away, but sometime later, Lenny decides to go for a walk in the nearby park-land, where he stumbles across the same kid again, this time talking to his parents. Lenny subsequently overhears them talking and finds out that the family is so poor, they are struggling to even eat. In an attempt to reconcile with the family, Lenny snatches back an offering basket from the nearby "Hobo" (who earlier sneaked into the church and stole the basket before the play even started) and gives it to the kid and his parents.
Ad blocker interference detected!
Wikia is a free-to-use site that makes money from advertising. We have a modified experience for viewers using ad blockers

Wikia is not accessible if you've made further modifications. Remove the custom ad blocker rule(s) and the page will load as expected.