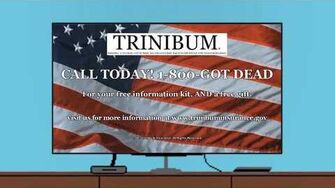 The Great Firework Fear
is a 4th of July themed short based off of
The Lenny Leggo Show
. It was released on July 4th 2017.
On July 2nd 2017, Lenny invites Jonah and Martin over the phone to watch Fireworks again. However, Jonah unexpectedly ends up having a nervous breakdown on the other end of the phone, noting it due to something he saw in a commercial. This is all the information Lenny can get out of Jonah, as on the other end, Jonah is wheezing, screaming at Lenny, and even shattering dishes. Finally, Jonah calms down after Lenny tells him to forget it. Just seconds after hanging up, the commercial that Jonah was talking about shows up on Lenny's TV. It is a Trinibum life insurance commercial, taking advantage of the holiday by informing viewers that deaths are frequently caused by fireworks, in order to promote their business and increase profits.
Two days later on July 4th, Lenny takes Jonah over to a fireworks stand to help him face his fear. Lenny's plan ultimately backfires, as before they can even make it to the stand, it unexpectedly explodes, completely destroying it and killing the owner, much to the shock of Lenny (but probably not so much for Jonah). The short ends with a brief advertisement for Season 2 of The Lenny Leggo Show and reminds the audience to be safe this 4th of July.
characters
Edit
Production
Edit
Partially due to his dissatisfaction with Fireworks (while even naming it his least favorite episode of Season 1), as well as the naturally heavily pressured due date for holiday episodes (which happened with "Fireworks, as it was almost late for its release date), Aaron Cosby decided not to produce an additional episode centered around 4th of July in 2017, but produce a short instead. He made this decision in June 2017, but did not even come up with an idea for the short until the evening of July 1st. As a result, this short was not scripted, in fact, it was literally improvised on the spot while Aaron Cosby recorded dialogue.
Recording took place on July 1st, around 11:00PM, with pick up recordings done that same night and July 2nd.
On the 2nd, backdrops began production on the short as well as character animation and is expected to continue on July 3rd.
On the evening of July 2nd, live action footage for the fireworks presented in the short were filmed at Dr. Pepper Ballpark during a post-game fireworks show.
On the evening of July 3rd, live-action shots will be filmed for the short. They were supposed to be shot on July 2nd, but were delayed.
While in production, it went under the working title "It Comes with a Price.
It was released on July 4th.
Ad blocker interference detected!
Wikia is a free-to-use site that makes money from advertising. We have a modified experience for viewers using ad blockers

Wikia is not accessible if you've made further modifications. Remove the custom ad blocker rule(s) and the page will load as expected.