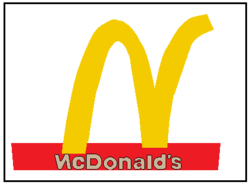 Ncdonald's
is a fictitious fast-food restaurant from the YouTube comedy series
The Lenny Leggo Show
. Ncdonald's is the all-time favorite restaurant of character main 
Jonah Flenderson
, who frequently undergoes food challenges there, including but not limited to the 150 chicken Ncnugget challenge and the 10 BigNac challenge.
Ncdonald's is a parody of the real life fast-food chain Mcdonald's. The marketing mascot for Ncdonald's is Ronald Ncdonald.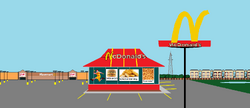 The following is a list of items available at Ncdonald's.
Combo Meals
Edit
2, NcDoubleduty (two cheeseburgers)
5, Big N' Nasty (this was due to a misprint on hundreds of thousands of menu slots; the company did not replace them due to the sheer amount of money it would have taken to re-print them correctly as the "Big N' Tasty", which is a real Mcdonald's item, though has since been discontinued in the United States).
6, Grilled Chicken NcSandwich
7, Crispy Chicken NcSandwich (the two were separated as numerous customers would request their NcSandwiches to be grilled AND crispy, as only one is possible per sandwich).
NcChicken N' Sweet Chili wrap
10 piece chicken Ncnuggets
Appearances
Edit
Ncdonald's only exists in the current incarnation of The Lenny Leggo Show. In the prototype series "The Lenny Lego Show", it was always just called "Mcdonald's", just like in real life.