Martha
is a fictitious character from the YouTube comedy animated sitcom
The Lenny Leggo Show
. She is a one-off character and appears in the Season 1 episode
Fireworks
.
Martha is the desk clerk at the Skyler City Police Department. In her appearance episode, "Fireworks", she is confronted by Lenny Leggo and Jonah Flenderson, who arrive at the police station to confess after thinking that they have blown up somebody's house with a runaway firework. However, the clerk insists that the station has not received any reports regarding an explosion, as, in actuality, the firework ended up being a dud while the implosion was actually from a TV set for a soap opera called Silver's Anatomy. Not yet aware of this information, however, Lenny convinces the clerk to use the TV in the station's waiting room to turn to the national news, believing that the incident might be, by now, late breaking. However, the national news is instead reporting on the fictitious "Reddington" Texas, a city that has reached record shattering temperatures for that day. Residents are interviewed regarding their thoughts on the record setting temperatures (this entire topic is implying that it is a very slow news day, even on the national news). The clerk then switches to the local news, but this time, it is about a boy dressed as Uncle Sam saluting the American Flag (again, implying that it is a very slow news day). When the local news cuts to the weather forecast, the clerk finally shuts off the TV and throws Lenny and Jonah out of the police station, threatening to have them arrested for public disruption if they don't leave. Dumbfounded, the duo return to Lenny's house, where they learn from Jonah's cousin Martin, about the true origins of the explosion.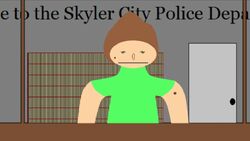 Martha's last name is undefined. she was one of two one-off characters to appear in "Fireworks", the other was Phil.
Martha is the second female character to star in the series after Katrina Leggo. Although both characters debuted in the same episode, Katrina appeared first, so technically, she is the show's first starring female while Martha is the second one.
Because Martha was always seen behind a counter in the episode, her legs were never drawn out when her art conceptions were created. This was to save time due to the episode's tight schedule and mandatory release date of July 4th 2016.